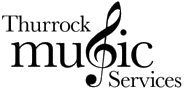 Thurrock Music Services
High House Production Park
Vellacott Close
Purfleet
RM19 1RJ
01375 413680
Admin Office
Opening times
Monday

Closed

Tuesday
Wednesday
Thursday
Friday

Closed

Saturday

Closed

Sunday

Closed
Please note. Currently the office is only accessible by appointment. If you need to attend the office please ring or e-mail to make an appointment.
Some admin and management work will continue to be undertaken offsite for the near future. Consequently we ask that for the moment no one visit the offices at High House unless an appointment has been previously arraged by e-mail.
We apologise for any inconvience caused.
Please check back here for status updates.
OPEN FOR BUSINESS
Please call 01375 413680 Mon-Fri 09:00-17:00
e-mail
GDPR has been in effect since the 25th May 2018, replacing previous data protection legislation, with the aim of making all data collection, storage and use more transparent.
Global communications has changed significantly in the last 50 years, and with the growth of internet technologies and computing, it was inevitable that data privacy laws would need redoing - especially considering the legislation it replaces in the UK is now 20 years old (Data Protection Act 1998).
Apart from legislative reasons, there are real problems that GDPR aims to solve. It has become clear over the past 10 years that personal data is a valuable commodity (just look at Google and Facebook among other companies), where products and services are free at the point of use, supported by advertising and other processes that use the data collected.
Over the past few years there have also been a string of huge data breaches that have shown companies are hoovering up massive amounts of personal data, which has led to questions such as:
What processes do they have in place to keep the data secure?
Are they handling the data correctly?
Do they have permission to use the data in the ways they are using it?
Do they even need to hold the data in order to perform the function we asked them to perform?
GDPR will strengthen and unify data protection for individuals and will force all organisations processing personal data to abide by the new regulation.