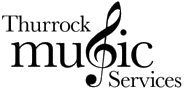 Thurrock Music Services
High House Production Park
Vellacott Close
Purfleet
RM19 1RJ
01375 413680
Admin Office
Opening times
Monday

Closed

Tuesday
Wednesday
Thursday
Friday

Closed

Saturday

Closed

Sunday

Closed
Please note. Currently the office is only accessible by appointment. If you need to attend the office please ring or e-mail to make an appointment.
Admin and management work will continue to be undertaken offsite for now. Consequently we ask that for the time being no one visit the offices at High House unless an appointment has been previously arraged.
We apologise for any inconvience caused.
Please check back here for status updates.




STOP PRESS
2022 Infant & Junior Music Festivals
Please note that this year, tickets MUST be bought in advance. This can be done by visiting: link
(https://thecivichall.ticketsolve/shows)


Junior Music Festival 2021
virtual performance
Young Musician of the Year
Voice of the Year - Ellie Clarke
Junior Music Festival 2020
2020 saw the Covid-19 pandemic and the colapse of not only live music but of so many other industries and areas of our social existence and so our planned Infant & Junior Festivals were cancelled. Thurrock Music Services had to adjust quickly to new ways of teaching and making music and in exploring the 'on-line' possibilities and subsequently we put together a performance of 'Africa'
Music Director: Di Sewell
Band: Thurrock Music Services teachers
Voices: Thurrock Staff Choir, Sewell Singers, friends & family
Planned 2020 JMF programme cancelled
Africa, Zum gali gali, Stodola Pumpa, Stand by me
Oh Happy Day, I will follow Him
Price of Love Mash-up, Raise my Voice

Planned 2020 IMF programme cancelled
Songs about the body
[Festivals]
Thurrock Music Service
Festivals

Infant Festival

Junior Festival

Young Musician

Young Voice
The infant & junior festivals normally take place during the summer term and held at the thurrock Civic Hall, Blackshots Lane.
---

01375 413680

email us

like us on facebook